The Governor of Central Bank of Nigeria (CBN), Mr Godwin Emefiele, is expected to give the keynote address at the fourth anniversary lecture of National...
The Central Bank of Nigeria (CBN), has announced that it has through three commercial banks financed railway infrastructure in Lagos to the tune of...
- Advertisement -
Nigerian Exchange Group Plc (NGX Group) is delighted to announce the successful listing of its shares on the Main Board of Nigerian Exchange Limited...
Nigerian Exchange Limited (NGX) is pleased to announce the relaunch of its Market Making program effective 4 October 2021. This comes on the back...
Sponsored
The Executive Vice Chairman of the Nigerian Communications Commission (NCC), Prof. Umar Garba Danbatta has assured Nigerians that the Commission will continue to work...
In yet another recognition of his efforts since becoming the GMD/CEO of the NNPC, Mallam Mele Kyari has been honoured with the "The Sun...
The Federal Government of Nigeria has reinstated commitment to improve and expand Railway and others means of transportation in Nigeria. The Minister of State for...
The Nigeria National Petroleum Corporation calls on Petroleum Tanker Drivers to, in the interest and welfare of the Nigerian people call off its planned...
- Advertisement -
The United Nations has underlined the need for governments all over the world to put women and girls at the centre of their efforts...
Renowned philanthropists, Bill Gates, Mo Ibrahim and Aliko Dangote yesterday at the Africa Center, expressed concern over the effect of climate change...
As part of its Employee Give-Back initiative, employees of The Nigerian Stock Exchange (NSE) have donated funds to support the initiatives of...
Junior Chamber International (JCI) Lagos Metropolitan has installed Ayodeji Akinwande as its 2021 Local Oganisation President. He took over from Omowunmi Davies-Akinwande whose term...
- Advertisement -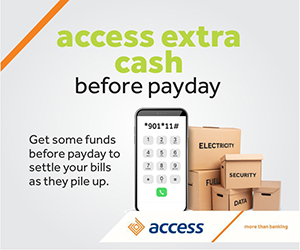 - Advertisement -
Advertisement
Seplat Energy Plc, a leading Nigerian independent energy company listed on both the Nigerian and London stock exchanges, has commissioned the project for power...
Nigerian lender, Unity Bank Plc has committed over N30 million to empower National Youth Service Corps (NYSC) members through the Bank's flagship Youth entrepreneurship...