Sterling Bank Plc, Nigeria's leading commercial bank, has said it will organize an award in early February, known as the Sterling Heart Fellowship Award,...
As a socially responsible organisation, Stanbic IBTC Holdings PLC is big on positively impacting lives within its host communities in Nigeria through its Corporate...
- Advertisement -
Nigerian Exchange Limited (NGX) will hold its annual 2021 Market Recap and 2022 Outlook in collaboration with Renaissance Capital (RenCap) on Thursday, 3 February...
Today index manager FTSE Russell or (The London Stock Exchange) announced that Airtel Africa plc will be joining the FTSE100 on Monday 31 January...
Sponsored
Stakeholders at the Ecobank-Vanguard Digital Financial Inclusion virtual summit say collaborations and well thought out partnerships are needed to drive the financial inclusion strategy of...
Nigerian Bulk Electricity Trading (NBET) yesterday, said it paid over N42,486,673,723.75 to the Generation Companies (GenCos) for November 2021 Payment Cycle for grid-distributed electricity....
Real Madrid is all set for their epic match against Barcelona. The Emirates A380 emblazoned with the blue Expo 2020 "mobility" livery lifted one...
The Nigerian Maritime Administration and Safety Agency (NIMASA) has commenced total digital manifest management regime for all vessels calling at all Nigerian Ports. The Physical transactions...
Advertisement
Despite recent developments succeeding the global impact of COVID-19 pandemic, the International Association for the Measurement and Evaluation of Communication (AMEC), an international regulator...
The ongoing Dangote Cement Bag of Goodies Promo season 2 has produced 60 millionaires spread across the nation, thereby cushioning the effects and impact...
The Pathfinder Justice Initiative (PJI) is organising a two -day training for law enforcement officers, prosecutors and Judges on investigation of trafficked victims and...
Ecobank Nigeria has launched the Super Rewards Scheme, which gives 200 of its customers an opportunity to earn different cash gifts monthly, with four...
- Advertisement -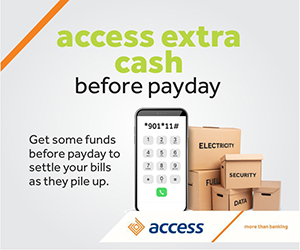 - Advertisement -
Ecobank Nigeria has commended David Alaba for his support towards the success of the Clean Nigeria Initiative being part of the Federal Government's efforts...
The founder of Edu Delight Tutors, Mr Segun Bolujo has urge parents and guidance to embrace e-learning in order to bridge the wide gap...