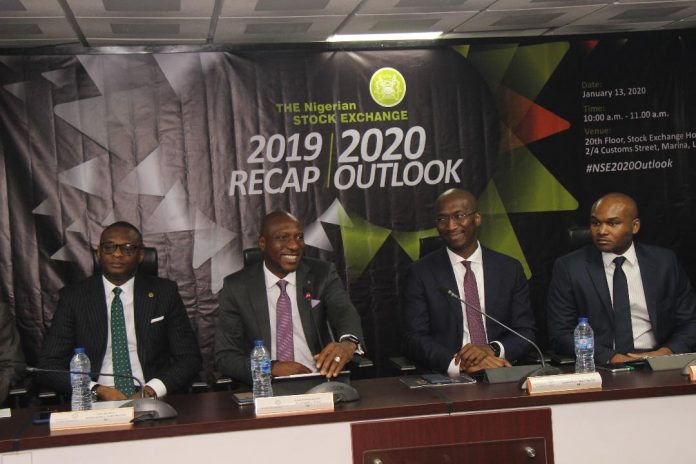 The Nigerian Stock Exchange (NSE) on Monday January 13, 2020, unveiled key factors expected to help shape the Nigerian economy in 2020. The Chief Executive Officer of the exchange Oscar Onyema disclosed this to market operators and financial press in Lagos.
Some of the factors according to Onyema, are crude oil price and production, which will continue to influence the capital market and larger economy. Factors such as US, and Iran tension. "Domestically, market sentiments may be buoyed by a steady and stable recovery in the domestic economy, alongside continued sustainability in monetary policy".
He pointed out that the signing into law of Nigeria's Finance bill 2019 and implementation of the 2020 budget may have a positive impact on companies' earnings as well as consumer spending. "Accordingly, The Exchange will continue to advocate for business-friendly economic environment, working in conjunction with both the Public and Private Sectors".
He said the year 2020 has started on a good note, with the NSE ASI recording a 9.48% improvement year-to-date. "We intend to work closely with our stakeholders to sustain this growth trajectory. In our aspiration to become a more agile and demutualized exchange, and pursuant to the SEC's 'No Objection', we will proceed to next steps which includes seeking formal approval from our members on our demutualization Scheme. We are committed to continually provide clarity on the demutualization process to our various stakeholders through regular engagements".
Onyema explained that while keeping an eye on the strategic intent of The Exchange post demutualization, "we will continue to leverage our vast network of stakeholders, in addition to developing new strategic partnerships with the goal of delivering better products and services to our customers. As African Champions, we will maintain momentum in executing the NSE's 2018 – 2021 Corporate Strategy in our efforts to elevate the prominence of Africa's global financial markets".
- Advertisement -